September 24-27 - Phil Wicks at the VIR Heacock Classic Gold Cup





Phil Wicks Racing
Heacock Classic Gold Cup
Virginia International Raceway -- Alton VA -- September 24-27, 2015
RACE REPORT



Driving up to Danville VA on the 24th of September, I was thinking that I had had a very good season of vintage racing. We had won both races at Road Atlanta, not only being first in class, but won the Walter Mitty group wire to wire.

And later in July, the VDCA races, again at Road Atlanta, winning both races wire to wire.

The problem with winning a lot of races is that everyone wants to knock you off the top spot. How long can this 75-year-old bloke keep doing it? This is all going through my mind while I am driving to VIR.

Then there is the weather forecast: rain for the entire weekend. And the cars that are entered in my group (1) and in my class are as fast as my 1967 Mini Cooper S and many drivers younger than me. "You know what, Phil," I thought, "bollocks to it! Get your head down and concentrate!" I'm looking forward to this race weekend at VIR.

My teammates from Zapata Racing were already pitted in the paddocks and saved space for our race car and transporter. Roger Brusnahan, my good friend and sponsor, had brought his big motorhome and very graciously hosted the Happy Hour Beer, Wine and Cheese party at 5pm. He later provided a cookout for some 20 people. A hearty meal, a couple glasses of red wine, and a good night's sleep. After driving my lap of the Nurburgring Nordschleife, 15 miles of it with many laps in the wet, it's all in my mind. Concentrate!!!

Friday, September 25, First Practice Session

Nineteen cars were entered in the Group 1 Race group consisting of MGA, Austin Healy, Sprite, Formula V, Fiat 128, Alfa Romeo, Turner and my Mini Cooper S (Snoopy). This first session is going to be learning the line of the very wet track. I went out of pit road behind several other cars. Straight away, I could see cars making big mistakes. I saw cars driving the normal race line. At the apex of most corners, there were big puddles of standing water. In conditions like this, you drive the line with the least standing water. The hairiest moments were in the straightaways where there were rivers running across the track. My Mini would hydroplane and spin its wheels, sending me from one side of the track to the other. Not the fastest time in the group as it turned out, but that's okay. My experience of racing on many tracks in Europe had taught me to learn the track in the current conditions while slowly increasing speed. I had purchased a tire grooving tool, and with the advice from the tech guys at Hoosier, I cut grooves on a set of new Hoosier dry racing tires. There are no wet racing tires for 10" classic Mini Cooper S. This definitely helped traction, but tire compound is more important. CONCENTRATE!

Second Practice/Qualifying Session

The second practice session was at 4pm. After a consultation with Jeff Speer at Hoosier Tires, we increased tire pressures slightly. Not only was it very wet on the track, but the air temperature was only 62 degrees. We could not get heat in the tires. The rain had eased up to a slow drizzle and conditions were better. Modify the racing line accordingly, turn the car into the corner, ease up on the gas pedal, make the car rotate, back on the gas and the whole car is sliding through the corner under power. This is how a Mini should be driven and it is a lot of fun. CONCENTRATE!! Fastest time in the group at 2:45. "Ok".

Saturday, September 25, 2nd Qualifying Session

Conditions were much the same. Still raining with a 62 degree air temperature. I only did 5 or 6 laps with my lap times the same at 2:45. I was 9 seconds faster than my nearest rival which was one of my Zapata MGA teammates, Dave Nicholas.

First Race

The first race was at 4pm. SVRA decided the grid starting positions would be decided by points already gained throughout the year from their previous races because of a low entry. This put me and Snoopy 5th instead of 1st on the grid. But the four cars in front of me at the rolling start were my Zapata teammates in quick MGAs. At the end of the first lap, I was sitting in a comfortable second place. I was impressed with the handling of the MGAs fitted with Hoosier speedster tires. I did not want to press the MGA too hard. The driver, Dave Nicholas, is a very experienced racer and would not make a mistake. But we both knew it was only a matter time and opportunity before I would pass him. My Mini seemed to be better coming out of the Oak Tree bend and I passed the MGA. I slowly pulled ahead and increased my lead throughout the rest of the race. We won by 9 seconds!

On the cool down lap, I realized I was soaking wet. The rubber gator surrounding the gear lever was letting in water. My feet, legs, and body were soaked. I didn't care. I won the race. Yea!!!

Sunday, September 26, the Gold Cup Race -- 9:30am

The weather was just the same as Saturday, very wet with a lot of standing water. We checked the Mini over and set everything the same as for the Saturday race. If the competition had been closer, I probably would have taken a little bit of the camber off the front wheels, giving a bit more traction in a straight line.

Even fewer cars showed up in the staging area for the race. This time, I was on pole position. Second to me was a very well driven Formula V. The rest of the field was made up of MGA, Austin Healy Sprite, and Turner. At the rolling start, I was first into turn one with the Formula V close on my heels. I didn't try to go too fast, just fast enough to stay in the lead, trying to get some heat in those Hoosier tires. Slowly, I pulled away from the rest of the field, constantly checking my rearview mirrors. There are some quick cars in my group and I expected someone to make a run on me. But it never came. CONCENTRATE!!

Okay, "One Lap to Go" sign appears. Keep it on the track, don't lose it now! Yea! Here comes the checkered flag. We won the Gold Cup Group One outright. The Formula V was a very well-deserved second place and a well driven MGA in third.

A great weekend! I thoroughly enjoyed it. I am going to fit windscreen motor and blades on Snoopy for future wet races.

I would like to make a comment here and I hope it doesn't anger my fellow competitors. Why would you go to the time and trouble to prepare, enter, transport your race car to the track, pay all of the expenses which are considerable, and not even go out on the track and check out the conditions before deciding to abandon the potential race? I believe there are available very good tires that perform well in the wet, and are available in any size to fit most cars (but not 10" Mini wheels). Then there is the driving and racing of the car. If you take the time to practice in wet conditions, you will learn a lot about driving your car. Seek advice regarding tires and pressures, suspension set-up, and you almost certainly will enjoy it. Yes, you are going to get wet, but it's worth it.

And, yes, I am from England. And if we did not race in the wet, we would never get any racing at all. Respect the wet track, increase your speed slowly. Smooth is the hallmark of a good driver, and CONCENTRATE!!!

I would like to thank by sponsors and supporters. Hoosier Tires, especially on advice for grooving race tires for wet conditions; Mini Mania for parts and tech advice; EFS Combust Fuel Additive (the best cylinder head, valves, and carbon resister that can help overall performance. After the race, I pulled the cylinder head off and it was amazing how clean the valve seats were and how few carbon deposits were found.); the Brusnahan Clan for financial support and the best food and beverages in the paddock; Midlands Motorworks for heavy wrenching and keeping transporters running; my Zapata Team members from Nashville TN; and my wife, Norree, and our dog, Sherry, for love and understanding.







July 12 - Phil Wicks at the Road Atlanta VDCA Hotlanta Historics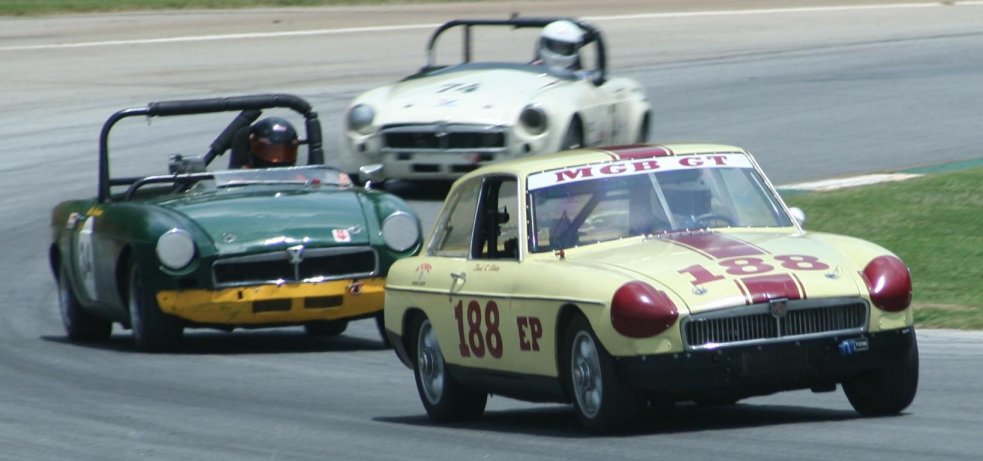 Phil Wicks Racing
VDCA Hotlanta Historics
Road Atlanta -- Braselton GA -- July 12, 2015
ENDURO RACE REPORT



Sunday, July 12

A few weeks ago, my good friend, David Blakey of Blakey Motorsports, asked me to drive with him in the Enduro Long Distance race at the VDCA Hotlanta Historics in his 1972 MGB GT. This car is very well prepared and an attractive looking yellow in color car. David has been an instructor for the Phil Wicks Driving Academy for many years and has been racing the MGB for about 2 years. The car is by no means prepared to its ultimate performance level, but that's okay because it is very reliable.

I did about 3-4 laps in the car in a practice session just to get the feel of the car. David's times in the official practice were in the order of 1:59 which placed us in 22nd place in the 36-car field. In our class, there were 9 cars made up of MGBs, Triumphs, and Fiat Abarth.

The race was a one-hour enduro with a mandatory 5-minute pit stop for driver change and refueling. It was decided I would take the first stint and start the race. We all lined up in the staging area and then followed the pace car for the warm-up lap and rolling start of the race. It really is as much fun starting a race with so many cars around you -- cars that have more power and different drivers and skill levels -- reminding me very much of the long distance races I would drive in the 1960's in Europe -- Nurburgring, Monza, Spa, and of course tracks in England. Usually I would be driving a smaller car -- 970 cc Mini Cooper S, lightweight Austin/Healy Sprites, or Fiat Abarth. My job as starting driver was to chase down faster cars -- BMW, Alfa Romeo, etc. -- before handing the car over to my co-driver. And that's exactly what we did in the race at Road Atlanta.

We were very lucky at the start and managed to get a run and pass several of the cars in front of me. It became very apparent to me that you had to drive this car as a momentum car -- throw it into corners understeering and foot level on the gas pedal (just like the Mini). I was having a lot of fun and passed a few more cars and was sad to see the pit-in sign at the end of my stint.

Handed the car over to David and helped with the refueling. David took off after the 5-minute pit stop and maintained our position until a slight mistake and he spun the car, slightly damaging the rear of the car. We lost some position, but still finished in 19th place and 5th in class.

I managed a fastest lap of 1:52.

A great race and a very good car. A few more horsepower and better tires, and this car would be a front runner. Thanks for a great race to David and Sarah Blakey and their team of helpers.







July 11 - Phil Wicks at the Road Atlanta VDCA Hotlanta Historics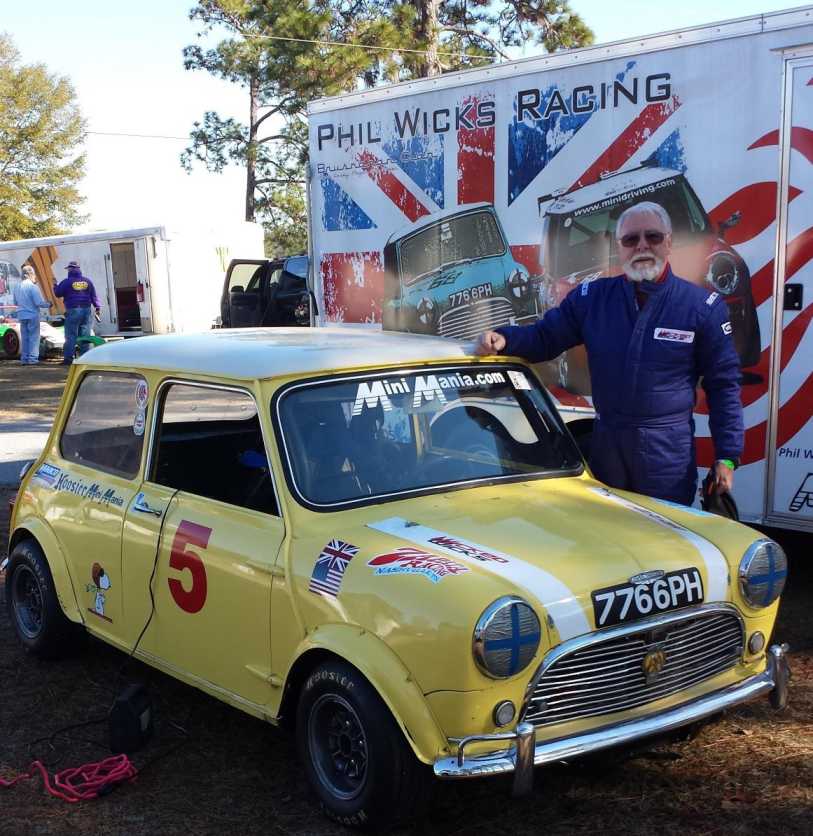 Phil Wicks Racing
VDCA Hotlanta Historics
Road Atlanta -- Braselton GA -- July 11, 2015
RACE REPORT



Saturday, July 11

HOTlanta it was! The weather was more like South Carolina than Georgia. The air temperature was 105 degrees with 100% humidity. The track temperature must have been 130!

I was so pleased I had the fore thought to fit a better electric radiator fan on my 1967 1275 Austin Mini Cooper S (Snoopy). I had performed a top end engine fresh up prior to this event. So, first practice session was very much a "making sure everything is working okay" session. The second session Saturday afternoon was qualifying for the upcoming race. Although there were not many cars in my class, I was really hoping to do well in the overall classification featuring a few Formula Vs, Sprites, MG Midget, Fiat, Datsun B-210, Triumph Spitfires, and Turner. 21 cars in all were entered for this race. My Mini Cooper S felt good in qualifying and I was on pole position with a lap of 1:52, about 1.5 seconds quicker than the two Formula Vs behind me. But I knew there were at least two quick cars sitting behind the Vs -- a very quick Turner and the Datsun B-210. I have tangled with these cars in previous races.

The race started and I was first into turn 1 with the pack on my heels. I drove the car fairly hard for the first 5-6 laps, keeping a sharp eye on my rearview mirrors. Gradually, I pulled out a 10 second lead which I considered safe. So I backed off a little and then drove the rest of the race just keeping a safe winning distance.

First overall. Best time 1:52. Second was the Turner, 10 seconds behind me.


Sunday, July 12

The Sunday race started a little earlier. It was at 12 noon in 95 degree weather. Again, I was in pole position with the Turner alongside me, closely followed by the Datsun B-210. This time, the Turner was able to stay closer to me for about 4 laps. I thought I would use a few more RPMs and, sure enough, I was able to pull out a 9-10 second lead. So I backed off a little, checking my mirrors all the time.

First overall. Best time 1:51. Turner and Datsun B-210 10 seconds behind. A great race and very good to put 2 more first place finishes in the book.

39 races, 36 first places -- but who's counting??!! Great little car -- Snoopy -- 1967 Mini Cooper S!

Thanks, as always, to my sponsors that make all this possible:
Hoosier Tires
Mini Mania
The Brusnahan Clan of Alexandria VA
Midlands Motorworks

And thanks to the encouragement from my teammates -- Zapata Racing, Nashville TN and to my, Norree and our dog, Sherry, for love and understanding why a 75 year old loves to drive race cars!







April 24-26 - Phil Wicks at Road Atlanta racing the The Walter Mitty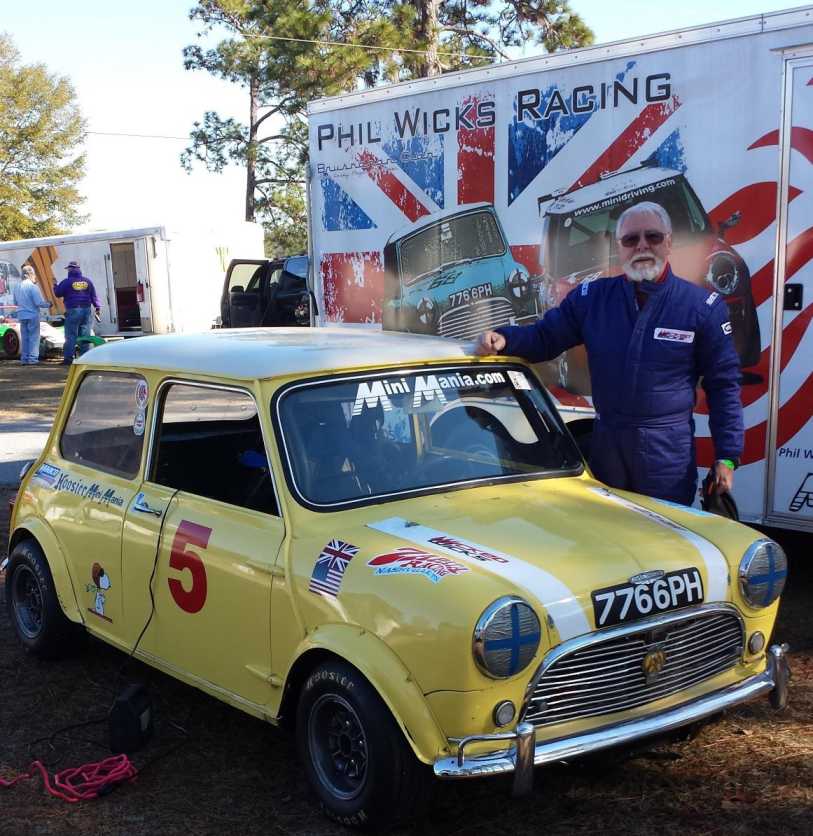 Phil Wicks Racing
The Walter Mitty
Road Atlanta -- Braselton GA -- April 24-26, 2015
RACE REPORT



Well, the weatherman got the forecast wrong for Braselton GA, at least. It did rain Friday night and a little on Saturday morning. However, by 11am Saturday, the track was 75% dry. So my first qualifying session was quite dry. I was breaking in a completely fresh engine and transmission, so rpms were kept very low. Frankly, there was not a lot of competition in my class, but, obviously there were many cars in the group 2 category -- 47 to be exact.

I was 43rd of 47 when we lined up for the first feature race on Saturday afternoon. The fresh engine and new transmission felt great. And with new Hoosier tires, I felt confident this was going to be a fun race -- chasing and passing many more powerful cars. Boy, was I right! I passed several cars on the very first lap. I was closing in on a VW Rabbit 1800cc and a Mazda GLC 1500cc. They were having a real close quarters race. I guess they didn't see me and I passed both of them. Snoopy and I finished 1st in class and 21st overall. So I had passed 22 cars in the 7-lap race. My fastest lap time was 1:52 which equaled my best time ever at Road Atlanta.

Sunday, the weather was much warmer and quite windy. I thought that would not be helpful for very fast lap times, but it turned out I was mistaken.

We lined up on the starting grid for the final feature race of the weekend. I was 21st. My main goal was to catch and pass a very quick Triumph Spitfire that I had been racing against in this group for the last 4 or 5 years. I know the young man who drives this car and he is an excellent driver. I have never been able to get anywhere near the #141 BRG Spitfire. He was 3 cars in front of me on the grid. At the rolling start, I held my position as the more powerful BMW 2002, MGB, and Porsche 356 pulled away from me slightly along the front straight at the green flag. And the very good handling Spitfire was able to pull away, making my task even harder. However, slowly lap after lap, I passed some of the cars I had mentioned -- mostly through corner speed. One lap to go -- white flag came out at the start/finish line. I was on the tail of the Spitfire. I just managed to eke past him on the back section of the course. But he was only about 2 car lengths behind me. And, sure enough, he made a suicidal dive on my inside going into the turn 9 right-hander which meant I had to take a very sharp turn to my left to avoid hitting him. He was in front, but I was able to use my corner exit speed to draft up behind him. I was slowly getting closer and closer. If I was going to pass him, I would have to time it perfectly coming down the hill to turn 10. "Okay, now!" I said to myself. I pulled along side and passed, then "shut the door" through 10 and 10-A under the bridge, down the hill, then the checkered flag! 1st in class and 12th overall. My fastest lap time ever -- 1:50.

The Spitfire came along side on the cool down lap -- thumbs up! Well done! Great race weekend!

37 races, 34 first places. Great little car -- Snoopy -- 1967 Mini Cooper S!

Thanks, as always, to my sponsors that make all this possible:
Hoosier Tires
Mini Mania
The Brusnahan Clan of Alexandria VA
Midlands Motorworks

And thanks to the encouragement from my teammates -- Zapata Racing, Nashville TN and the understanding of my wife, Norree and our dog, Sherry, for putting up with my racing career!

Phil Wicks







July 26-27 - Phil Wicks at Road Atlanta racing the VDCA Hotlanta Races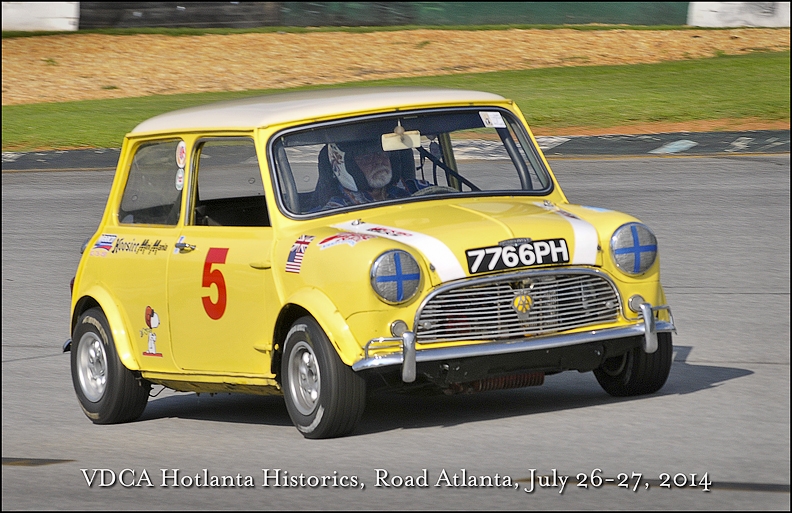 Phil Wicks Racing
VDCA Hotlanta Races
Road Atlanta -- Braselton GA -- July 26-27, 2014
RACE REPORT



Coming straight off the Mid-Ohio Can-Am Mini Challenge race in June, I pulled the cylinder head of Snoopy, my 1967 Austin Mini racecar, and freshened it up. Everything seemed okay. We found a couple of things amiss on the front suspension and corrected accordingly.

We set off for Road Atlanta on Friday morning to join my teammates from Nashville TN, Zapata Racing. The group comprises of drivers in MGAs, older Porsche 911s, Triumph Spitfire, and MG Midget. VDCA had arranged for the race entrants to have a one 30-minute test session late on Friday afternoon, June 25. We took advantage of this test session to make sure everything was ok with Snoopy and the new suspension set-up. I was very pleased to see my Hoosier HDS DOT race tires were "scrubbing in" much better on the new set-up. Everything seemed okay.

Saturday morning, the weather was 80 degrees. We had official practice. The group on the track included groups 1, 4, and 9 totaling 31 cars made up of small bore sports racing cars: MGA, MGB, MG Midget, Austin Healey, Porsche 356, Formula V, Fiat 128, Datsun B-210, and Mini Cooper S 1275. I was kind of surprised to see that I was 3rd fastest overall and 1st in my class. I guess, like me, everyone was taking it really easy!!! My laps times were 1:54.

The second session in the afternoon was official qualifying session I. The temperature was mid 90s -- VERY HOT. Snoopy was running very well and the auxiliary fan was keeping coolant in an acceptable level. But the track was slowed due to surface of the track, and the hot air is not ideal for a race car. I was not surprised to see my qualifying times of 1:52. Normally, I would be 2 seconds quicker than this. However, it did place me 3rd fastest overall and 1st in my class. The 2nd qualifying session produced the same results.

SATURDAY FEATURE RACE:

After 1 lap behind the pace car, the green flag waved. It was a small sports racing car with a 2-cycle high reving engined car that led the race, a very quick Austin Healey MK II Sprite second, closely pursued by myself in Snoopy -- 1967 Mini Cooper S 1275.

I pushed very hard and, for some reason, the Sprite pulled off the track. Just behind me was one of my students, Shea Brown, in the Fiat 128. He learned well and was soon taking the same racing line as I was. But Snoopy soon pulled away. The rest of the chasing pack were some distance behind. I could not catch the sports racer, so that is how it finished after 11 laps. I was 2nd overall and 1st in class.

Also in this race was another of my students, Becky Labatt, in her MG Midget, who achieved her personal best lap time during this race. There were other students/graduates of the Phil Wicks Driving Academy in other race groups throughout the day.

SUNDAY FEATURE RACE:

12 noon, temperature in the mid 90s -- VERY HOT and HUMID. It was the same line-up for the front 2 rows. I was in 3rd place at the start. I made a good start and passed the Sprite on the inside going into turn 1, flat out in 3rd gear, 8,000 RPMs. All 3 cars were very close at the first lap. On the 2nd lap, the little sports racer went off. I don't know if it was driver error or mechanical breakdown. The Sprite just had the edge on me on the back straight and eased past me (more aerodynamic car than the box like my Mini), I kept close company to the Sprite, but each lap, he would widen the gap on the fast back straight. So, 2nd again overall, but 1st in class. Same lap times of 1:52.

In four years, I have run in 31 races placing 1st in 27. The new set-up of my suspension gave me even better grip on my fabulous Hoosier HDS tires and are wearing more across the tread surface.

As always, many thanks to Mini Mania for parts, technical advice, and generous sponsorship; the Brusnahan Clan for financial sponsorship; Midlands Motorworks of Columbia SC for wrenching; and the continued encouragement and understanding from my wife, Norree, and our English Cocker, Sherry. VIVA ZAPATA RACING, Nashville TN

Phil Wicks







June 26-29 - Phil Wicks at Mid-Ohio racing the Can-Am Mini Race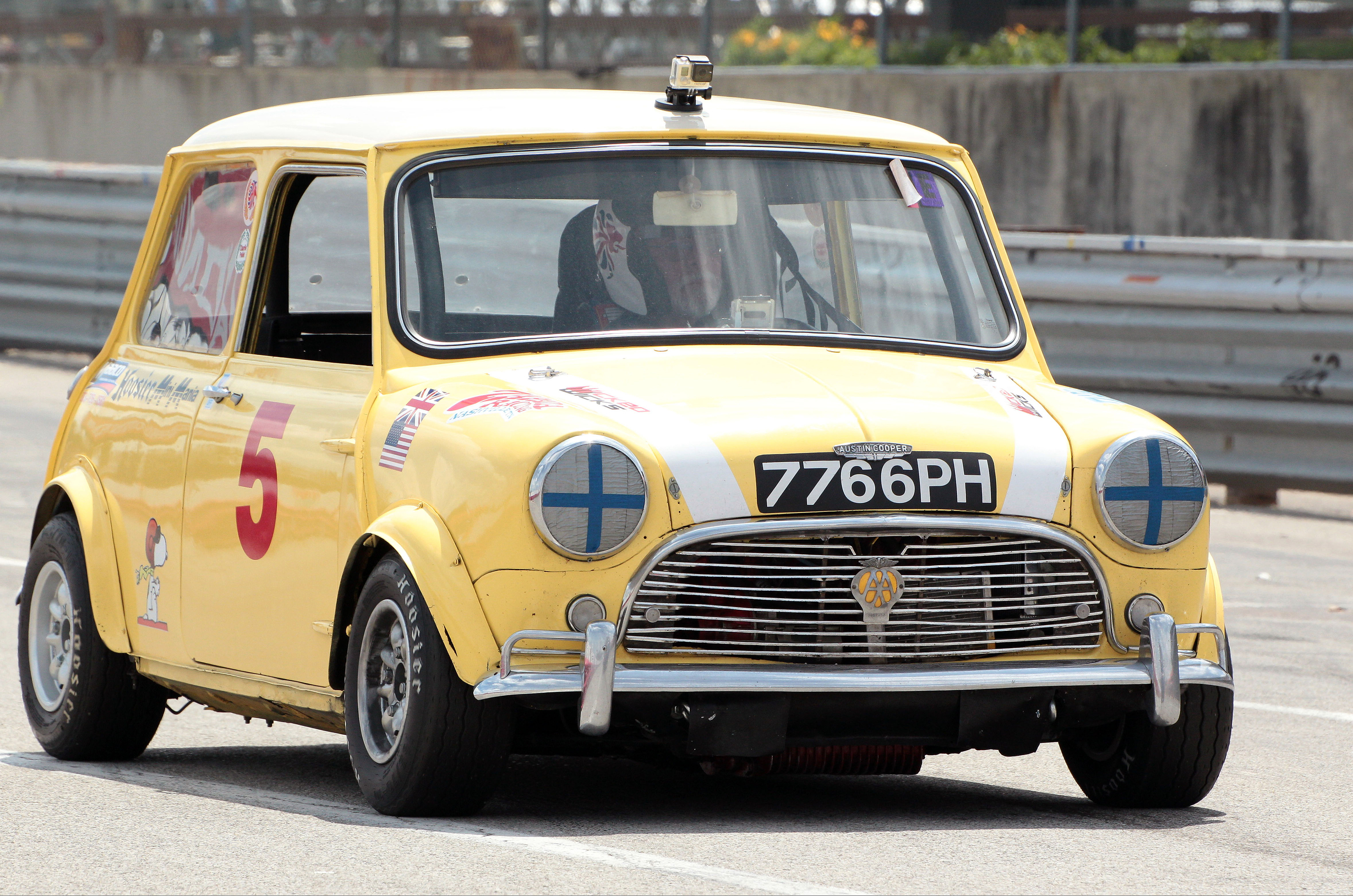 Phil Wicks Racing
Can-Am Mini Race
Mid-Ohio Raceway -- Lexington OH -- June 26-29, 2014
RACE REPORT



56 Minis entered ranging in groups from M1-M5, with M5 being mostly space framed rear wheel drive cars with a lightweight Mini body shell, extra wide 13" wheels with slick tires. Not really a Mini in the true sense of the word. M1-M4 were true Minis, depending on modifications and weight of car. The biggest group was M2, comprising of 21 true vintage race spec cars, of which Snoopy (my racecar) was one, racing on DOT treaded race tires.

Having never driven at Mid-Ohio, I was pleased to take advantage of the extra day of track learning on the Thursday before the event. I had just completely rebuilt the engine in Snoopy, especially for this race. So Thursday was spent breaking in the new engine whilst learning the track.

Friday mid-morning, the weather was perfect for our first official practice. I was keeping the RPMs down and short shifting. Practice 2 was run later afternoon and I started to use a few more RPMs.

Saturday mid-morning was our first qualifying session. It was very obvious from the very beginning that the competition was very serious. Competitors included the best race cars from Canada and all over the US, and Nick Swift of SwiftTune England with a very fast M3 group car with his own engine installed in a borrowed car. I felt that I would be doing well if I should be somewhere in the middle of the pack. And, indeed, that is where the qualifying sessions found me -- 9th in my class and 24th overall -- with a time of 1:49. The fastest car in my class was doing 1:43. During the first qualifying session, I was worried about a bad vibration on the front end. I had fitted new wheels and tires with Hoosier HDS race tires -- always perfect! So we rebalanced the wheels for the second qualifying session and rotated the wheels on the car. It was a little better, but far from perfect. So we checked the balance of the wheels and checked all other obvious causes of vibration. But found nothing wrong and left it as it was for the race on Sunday.

Race day Sunday: The weather was perfect. All the cars were called to the grid. 47 cars actually made it to the grit. It was a very impressive sight to see all the Minis. All the drivers got out of their cars and chatted with other drivers wishing luck and a good safe race. There is always a great sense of camaraderie for this once-every-five-year event. (The Phil Wicks Driving Academy HDSted and organized the last race in 2009.)

Norree Boyd-Wicks, my wife, sang both the US and Canadian national anthems. Then the call to "start your engines" and 47 Minis burst into life. Let me say here that I knew I could not build an engine to compete with some of the high BHP engines that my competitors were driving. I build my own engines, include all of the cylinder head porting and shaping. I built this engine with more mid-range RPM torque.

After two laps behind the pace car, the flag to start the race on the back straight was thrown. I usually make good starts in races and this was no exception. I passed five cars on the first lap. It was great to be in the thick of the race, very reminiscent of years ago in Europe -- the Nurburgring starts in the early 1960s with over 100 cars, all makes and models, hurtling to turn one, or LeMans type start running across the track to get in the car. But this race was all Mini Coopers, John Cooper and Sir Alec Issigonis smiling down on us. At the age of 74, I think I upheld the true Mini Cooper race image and was a good representative of my native English Mini Cooper racing heritage, since I was there on day 1 in 1959.

After the first few laps Grand-Prix, I settled down, keeping 100% concentration on driving my own race which is what I always do. 58 years of international racing on the most demanding tracks in the world does make a difference. I achieved my personal goals to be the best East Coast Mini whilst finishing in front of some of the West Coast and Canadian cars.

5th in Class
15th overall
1:47 laps

The vibration did get better during the race once the front wheels that were rubbing on the brake caliper had worn a groove on the inside of my new wheels!

Many, many thanks to my sponsors: Mini Mania for parts; Hoosier Tires for great grip; Midlands Motorworks of Columbia SC for heavy wrenching on the race car and transporter and for transporting the car to South Carolina; the Brusnahan Clan of Alexandria VA for financial support and providing a wonderful 38' motorhome for Norree, Sherry and I to use for the weekend; a very special thanks to Roger Brusnahan providing excellent meals and 5:00 Happy Hour cocktails; and most of all, my wife Norree and our English Cocker, Sherry.

Jet Motors has the entire race on YouTube.

Phil Wicks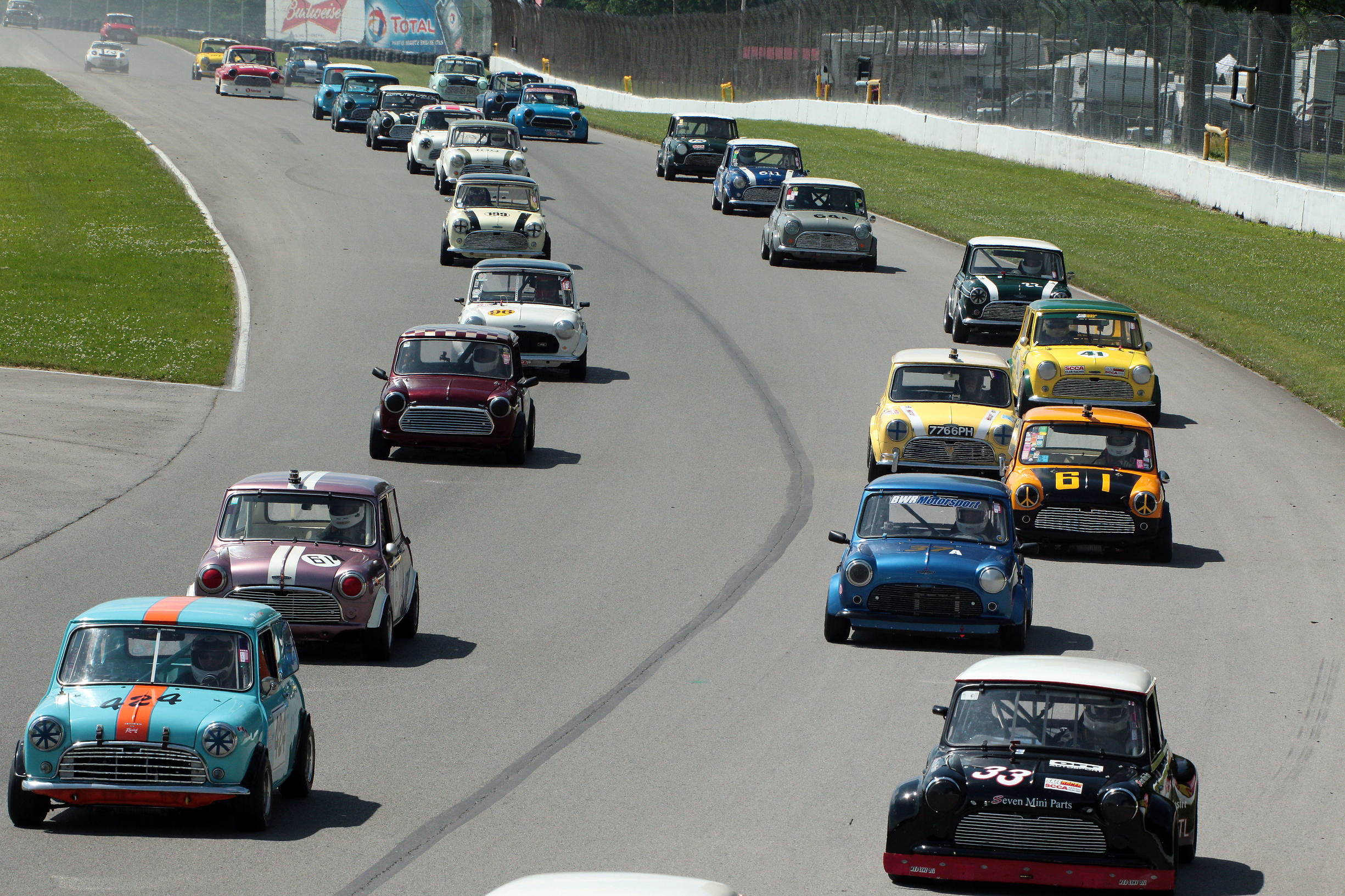 April 26-29 - Phil Wicks at Road Atlanta racing The Mitty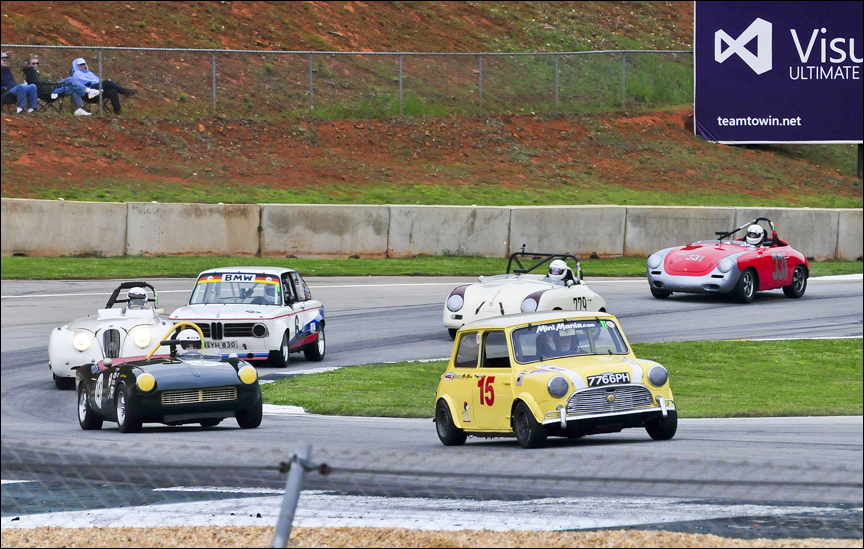 Phil Wicks Racing
The Mitty
Road Atlanta -- Braselton GA -- April 26-29, 2013
RACE REPORT



The Walter Mitty road races at Road Atlanta is probably the biggest and most significant vintage racing on the east coast.

Just as in Formula 1 Grand Prix cars and all forms of racing "if you are not further developing and advancing with your on-going modifications," you are going backwards! So, for the last few months, we have been modifying and testing Snoopy Dog (1967 1275 Mini Cooper S) for the 2013 race season. The Mitty at Road Atlanta was our first race this year. Along with parts supplied by Don Racine at Mini Mania, we had been testing suspension settings and rebuilt the engine. But this time, the fresh engine included my own modified cylinder head. Through 54 years of Mini Cooper development experience, I have my own specification formula for cylinder heads, which has proved very successful. Carburetion is two split Weber 45 DCOE.

We arrived at Road Atlanta feeling pretty confident the car would do well.

First Practice Session, Friday Morning, April 26: Still breaking in the fresh engine and keeping RPM to 6,500. Driving with a full tank of gas, my lap times were 1:59. The newer suspension setting proved to be better. The temperatures across the Hoosier TDS tires were very good and the grip and wear pattern was great. After a conference with Jeff Speer of Hoosier, we changed the tire pressure a little.

Second Practice Session, Friday Afternoon, April 26: The air and track temperature had increased, giving even better grip and the Hoosier tires were providing better handling. The Mini felt great, so I pressed a little harder, increasing RPM to 7,000 max. This resulted in lap times of 1:53. I absolutely knew then this car was going to be the best it has ever been.

Qualifying Session, Saturday Morning, April 27: The 9:40am qualifying session was wet and drizzling rain. Jeff Speer advised slightly higher tire pressures. So with Rain-X on the front windscreen (no windscreen wipers), we set off to qualify. Only 30 of the 63 cars in group 2 attempted the qualifying session. Increasing RPM to 7,500 max, I qualified first in class and ninth overall! My lap time was 2:05. The cars in my class consisted of 4 Mini Coopers -- 1275cc -- 2 sixty's-vintage Lotus Elites, and 3 Austin Healy Sprites -- 1275cc. The other cars in the Group 2 sessions in four classes were mainly, Lotus Super 7, Merlin Sports Racers, Porsche 911, Porsche 356 Speedsters, BMW 2002, Triumph Spitfires, Ginetta G4, MGA, MGB, Chevy Corvair, Jaguar XK120, and Alfa Romeo.

Feature Mitty Race, Saturday Afternoon, April 27: The weather was dry and sunny. Starting 9th on the grid with a rolling start, I felt that I would be gobbled up by the bigger engine faster cars behind me. However, that was not the case. Immediately going into turn 1 at the start, I managed to put Snoopy on the inside of the track and actually passed 2 cars. I was 7th going up the hill exiting turn 1. I had that position all the way to the very fast back straight. Then some of the faster cars passed me. But I managed to tuck in behind them and got a pull (draft) down the straight to turn 10 esses. I love playing "Jack the Giant Killer" mixing it with these cars in the faster groups. It was just like chasing the Jags, Mercedes, BMWs, and Lotus Cortinas around the Nurburgring in the 1960s.
I figured that probably 10 cars would pass me during the race, but I was pretty sure nobody from my class would pass Snoopy, especially as I was pulling 8,400 RPM in top gear down the straight (approximately 130mph). The car felt great! I knew this was going to be a great race -- probably one of my most memorable of the 21 races in Snoopy in the past two years -- 18 firsts, 1 third, and 1 DNF -- AND IT WAS! Finishing first in class, 18th overall out of 55 cars that started, and my lap time was 1:50.123 -- quite possibly the lap record for a classic Mini Cooper at Road Atlanta. I've got to get into the 1:40s next time!

Feature Race, Sunday afternoon, April 28: The race was a total washout with record rainfall. I did do a couple of warm-up laps and decided without rain tires -- or at least street treaded tires -- the car was not competitive. So I did not attempt to race.

Many thanks to Carl George, Zapata team chief for all of the support and encouragement. Thanks also to Don Racine and Mini Mania for sponsorship of parts, Jeff Speer and Hoosier Tires for tire sponsorship, Midlands Motorworks in Columbia SC for all the hard wrenching, and all of the fans and well wishers that come by in the paddock.

And, of course, thanks to Norree and Sherry -- my two favorite blondes -- who understand my addiction for the past 58 years.

Phil Wicks






October 5-7 - Phil Wicks at VIR racing Heacock Classic Gold Cup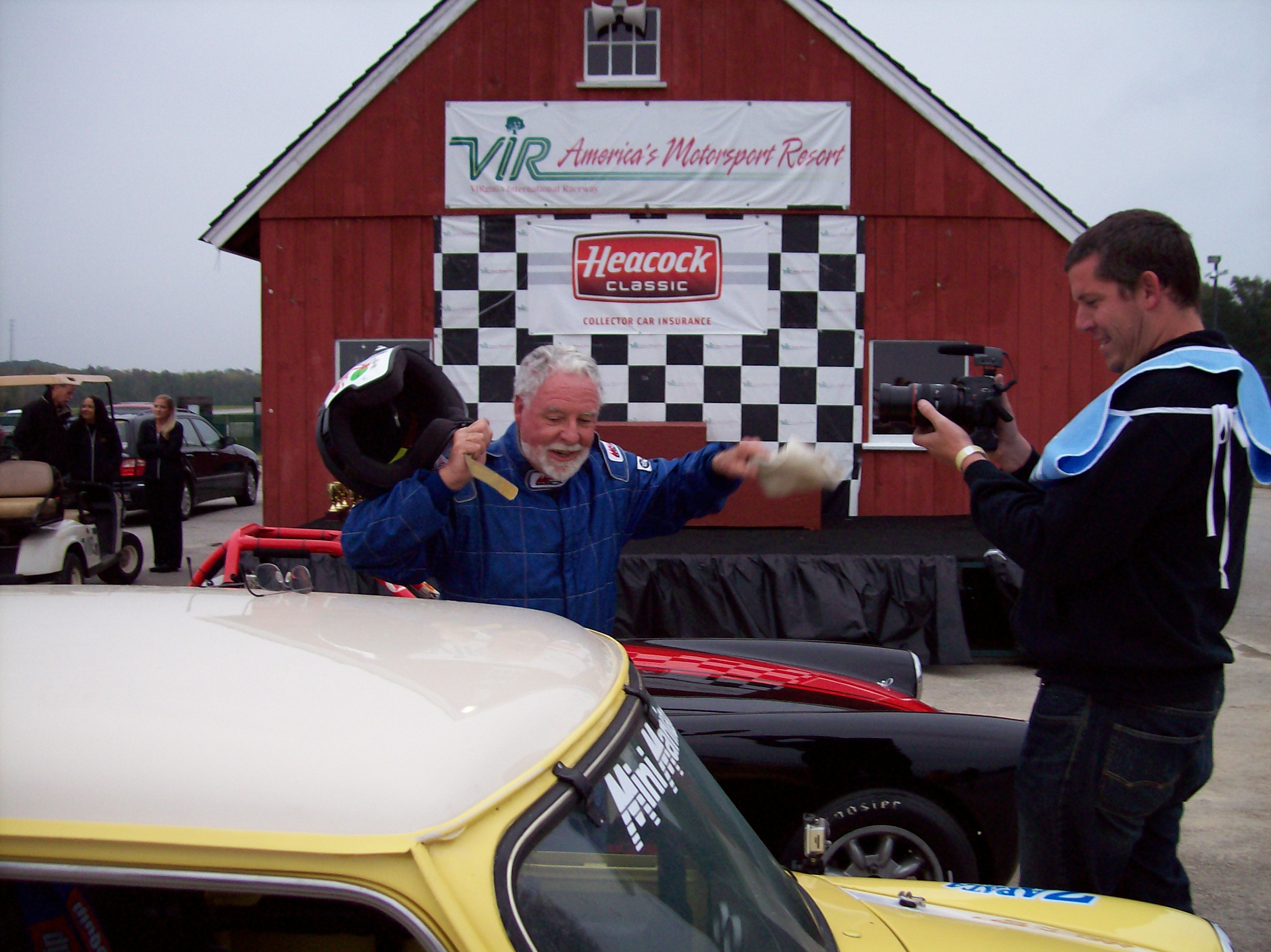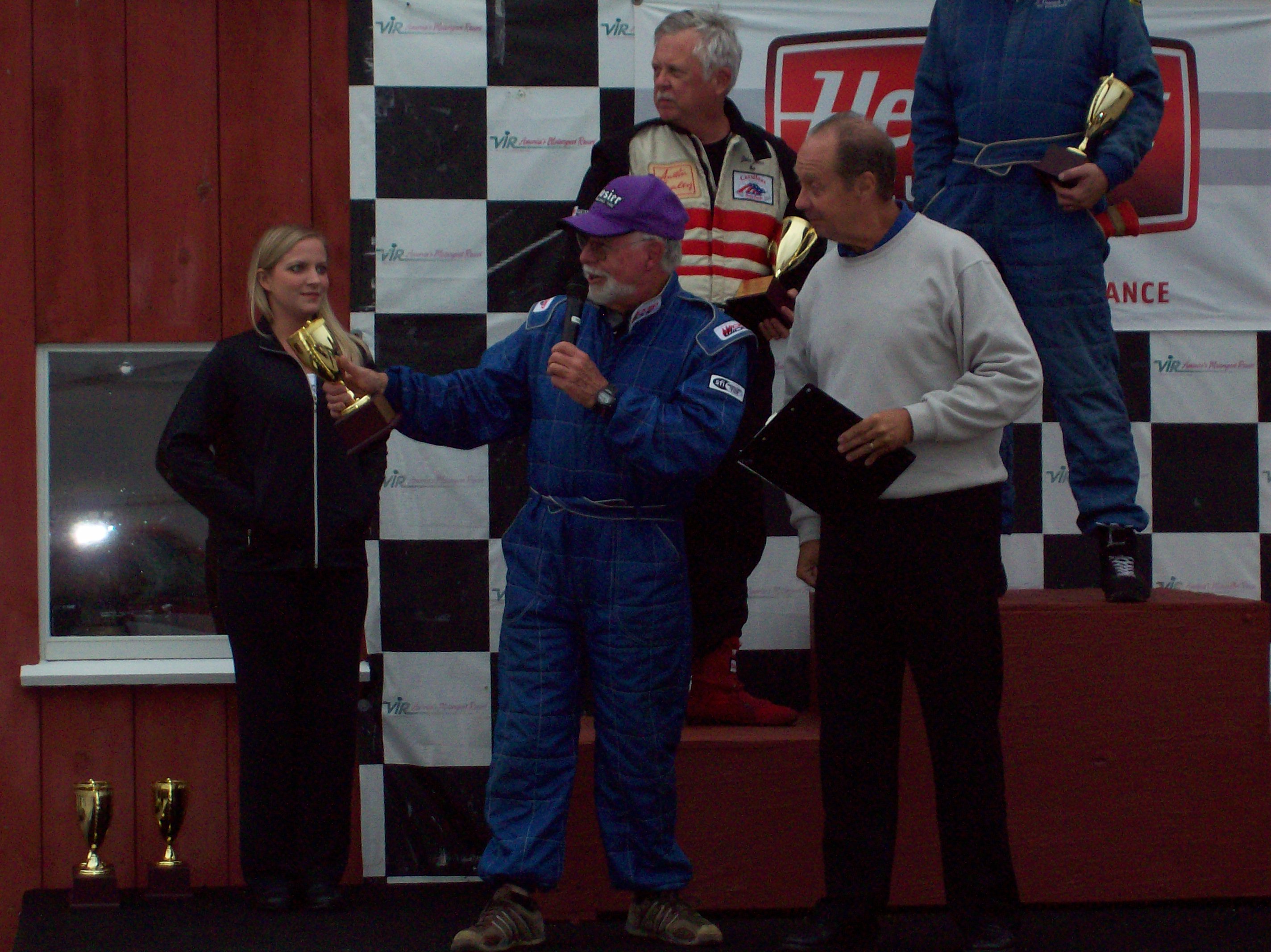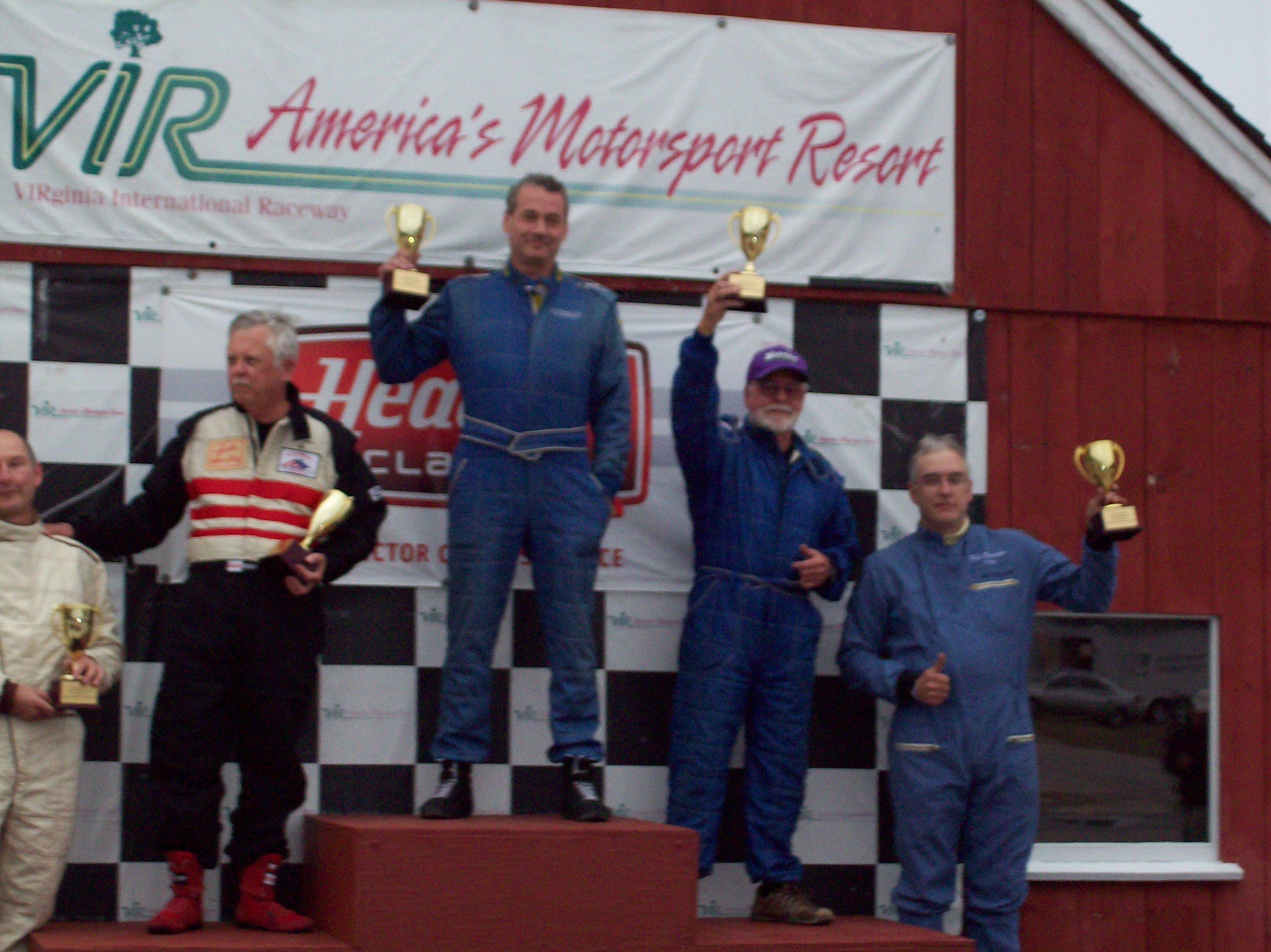 Phil Wicks Racing
Heacock Classic Gold Cup Races
Virginia International Raceway -- Danville VA -- October 5-7, 2012
RACE REPORT



We traveled to Virginia International Raceway (VIR) on Thursday, October 4, so we could take advantage of the Friday morning practice. Floyd Harper, the suspension guru from Black Art Design had spent a lot of time the previous week adjusting the suspension on Snoopy and corrected as best as possible the caster, camber, tracking, ride height, and shock settings.

So with new tires, courtesy of Hoosier, we went out in first practice. The car handled much better -- different but better. Lap times were not important at this stage. We just wanted to get the car handling more to my liking. The second session on Friday, we played with tire pressures and we got a lap time of 2:37.

Saturday morning, the weather was bright and sunny, but cold. It took 4 laps for the tires to really get hot. So I started to push a little harder. I was using 1000 rpm less that I would for fast times or racing. Lap times were 2:34. My times showed me 10th overall out of 36 cars and 1st in class.

Saturday afternoon, the temperature was in the mid 80s for the Qualifying race. As usual, Snoopy made a good start in the rolling start and was in the leading group. An immense battled with various MGAs and Morgans made for a very enjoyable and satisfying race. I finished 7th overall and 1st in class out of 36 cars -- not bad! Lap times were 2:28, equaling my best ever at VIR.

True to the weather forecast, it rained all night on Saturday night and Sunday morning. And the temperature was low 50s. Because of the weather, many racers left and did not compete in the various Gold Cup races. I guess coming from England, many of my long and short distance races have been in some kind of adverse conditions. It doesn't bother me to race in the rain ("The Art of Racing in the Rain").

We did 4 laps in the all comers practice session, just enough to try wet/cold tires and adjust tire pressures accordingly. It must be said here that I find it quite amazing that Hoosier can produce a tire that I can race one day in 90 degree weather and, the very next day, use the very same tire in 50 degree weather and be competitive and win races.

15 cars lined up on the pre grid for the Gold Cup race consisting of MGBs, MGAs, Porsche, Alfa Romeo, Fiat, Fiat/Abarth, Morgan, Spridgets, Spitfires, Morris Minor and Snoopy. The group was subdivided into 5 different classes. Because some of my fellow racers did not start, I found myself 4th on the grid and, don't you know, it started to rain again -- a fine misty rain that made it nearly impossible to see through the windscreen. I was hoping it would rain heavier so my windscreen would bead and run off. But, NO, it just stayed misty and very difficult to see. "OK, Phil, all you have to do is finish and win the class, " I said to myself. I concentrated on keeping it on the island and cruised to victory. First in class and 5th overall. My first Gold Cup!

Many thanks to Mini Mania, Hoosier Tires, Floyd Harper from Black Art Design Suspension from England, Zapata Racing for supplying a great car for me to drive, Midlands Motorworks for helping prepare the car, and Norree and Sherry for their love and understanding.

Phil Wicks






September 15-16 - Phil Wicks at Roebling Road racing VDCA Hurricane





Phil Wicks Racing
VDCA Hurricane
Roebling Road -- Pooler (Savannah) GA -- September 15-16, 2012
RACE REPORT



Snoopy (1967 Mini Cooper S 1275 cc) had been well prepared for this event run by VDCA. New Hoosier tires all round and a complete check over all round the car. There were the usual cars to compete with -- Spridgets, Spitfires, Datsun B210, etc. There were 25 cars subdivided into 4 groups.

Our practices were good enough to put Snoopy 4th on the starting grid. A very quick Sprite, Datsun B210, and another Sprite were in front of me. Snoopy always makes good starts. We were 3rd going into turn one. Lap after lap, the four of us were in close company. I managed to get to 2nd place and on the last lap, I was drafting the 1st place Sprite. I came to the finish line alongside the Sprite. But the Sprite inched ahead of me and got 1st overall with Snoopy 2nd with a class win. However, during the last couple of laps, Snoopy had developed a bad understeer (push) on right hand curves. We checked the car over, but nothing seemed amiss.

Don Racine from Mini Mania had flown in from California. So Don did a session on Sunday morning and agreed the car was badly pushing. We did find we had some worn suspension parts which caused excess tire wear. However, our Hoosier tires still kept us in contention.

So I raced in the feature race on Sunday knowing I probably would not win the race overall, which did turn out to be the case. We were 5th overall, but still managed to win the class.

Good old Snoopy! It's just pure performance, Mini Mania and Hoosier Tires that got us there.

Thanks to Zapata Racing for supplying the car, Midlands Motorworks for helping to set up the car, Black Art Design suspension specialists from England, and my "crew": Norree and Sherry.

Phil Wicks






April 27-29 - Phil Wicks at VIR racing The Mitty



Part 1 of 2


Part 2 of 2


Phil Wicks Racing
The Mitty
Road Atlanta -- Braselton GA -- April 27-29, 2012
RACE REPORT



The Walter Mitty road races at Road Atlanta is probably the biggest and most significant vintage racing on the east coast.

My 1967 Mini Cooper S 1275 cc (Snoopy Dog) had undergone a complete engine rebuild during the winter and was ready for this very important race. Many thanks to Don Racine of Mini Mania for sponsorship and supplying all necessary parts to rebuild Snoopy's engine.

The Friday, April 27 sessions were spent completing final break in and shake down. Road Atlanta is a very fast track and we adjusted the suspension accordingly.

Saturday, April 28, the weather had gotten very hot -- high 80s. Climbing into Snoopy, I felt very confident we would do well in qualifying. Driving down to pit road, a misfire developed and would not clear. I turned around and headed back to the paddock. Everything seemed to look okay. By now qualifying was well underway. By the time Chrys Zouras and Bryan Howle (Midlands Motorworks) had tested the electrical system and diagnosed that the distributor cap and coil lead were faulty, qualifying was over. We did not record a lap time. Not to worry. I'll start on the back of the grid for the big race on Sunday. However, my Zapata team mates David Conrad (MGA) Carl George (MGA) and Charlie Kates (Lotus) had qualified well and were in mid pack overall and high up in their class for the big race.

Sunday, April 29, called for even hotter weather -- 90s -- and it was exactly that. Chrys and Bryan arrived at the track early and corrected all the electrical failures encountered earlier. There were no warm up laps offered, so a quick lap around the paddock was all the testing that was done. Snoopy seemed to be okay.

Lining up in the false grid put me somewhere I had never been before -- DEAD LAST -- 43rd out of 43 cars. I think the leading cars were halfway through turn one and going up the hill when I took the green flag at the start. "Okay, Phil, concentrate and do what you know how to do -- pass cars!" The problem with carving through the pack is you are governed by the performance of the individual car you are attempting to pass; i.e., fast cars driven by inexperienced and slow drivers, or slow car being driven by good drivers. The sixteen cars I passed in this 7-lap race consisted of Chevy Corvairs, Yenko Singers, Porsche 356, Sprites and Midgets, and BMW 1800. On lap 4, my brake pedal was going down further and further. Knowing all the brake pads (front) and brake shoes (rear) were new, it had to be an hydraulic problem. I turned the brake bias further to front bias. It helped for 1 lap. By now I had caught up with my teammate and chief, Carl George, in his very quick and new engined MGA -- reasonably quick car driven by a very good driver. The Zapata teammates race hard. No quarter is given or expected. But we race fair and safe. When the opportunity presented itself, I got by Carl and set after David Conrad in his even quicker MGA. By now the brake pedal was all the way to the floor board. We have a saying for this experience in England. "It's like putting your foot into a bucket of SH_T!" David's car was faster that the Mini down the back straight. As we took the white flag -- last lap -- I had my plan. Let him gap me on the approach to the 6-7 turn, knowing my Mini was quicker there, slingshot out of 7 to get the slipstream (draft) down the long straight through curves 8 and 9. It was working! His MGA sucked me right up behind him and heading down the hill to turn 10A. As soon as David hit the brakes, I dived to the inside and pumped the brake pedal like mad to slow the car and turn in 10A. I was in front and just made it to the line. I ended up in position 27 and first in my class. David Conrad was first in his class and Carl George was second.

Zapata Racing had a good result and celebrated accordingly. Many thanks to Hoosier Tires which I think, with the suspension change, made Snoopy Dog the best handling it has ever been. Also thanks to Mini Mania for all the parts and Midlands Motorworks in Columbia, SC. And, as always, thanks to Zapata Racing Team.

I think that in my 57 years of road racing (52 years in a Mini) -- and given this was a sprint race -- I can number this race as one of my top ten epic drives of all times!

Phil Wicks





May 2011 - Phil Wicks, VIR & Road Atlanta








February 2011 - Phil Wicks at the wheel of Zapata Racing's yellow Mini Cooper No. 5 (Road Atlanta)